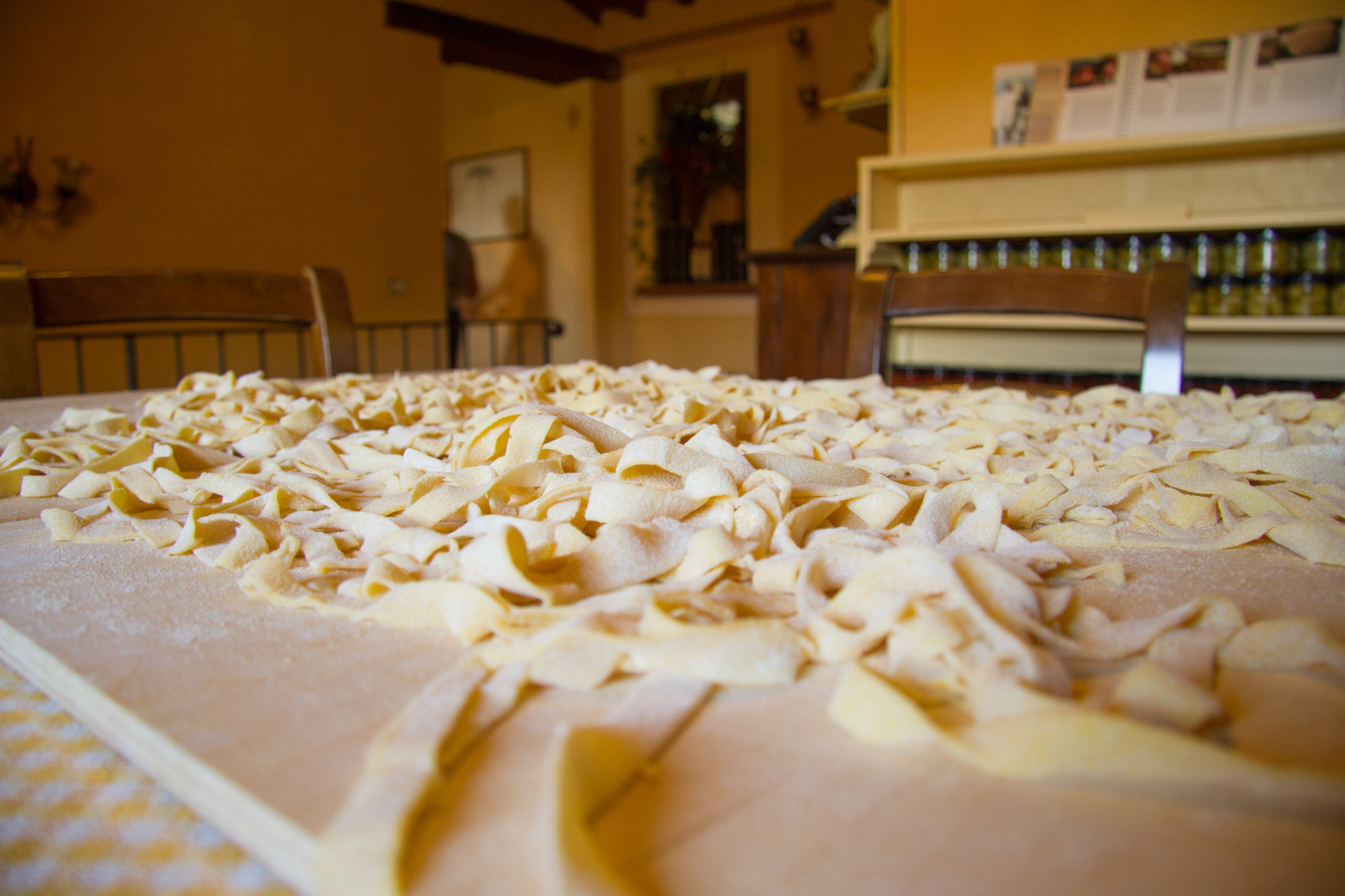 Cooking Classes
A holiday in Tuscany would not be complete without an entertaining cooking class with dinner to learn how to cook traditional Tuscan dishes such as freshly-made pasta, pizza and other Tuscan specialties in a homely ambiance to prepare again once back home.
The Menu
The cooking class you will attend at Agriturismo Santo Stefano is focused on the traditional Tuscan home cooking based on genuine products and vegetables from our kitchen garden. The menu is agreed with the participants and it is possible to arrange for vegetarian or vegan cooking classes. The chef will take care of the grocery shopping and will supply some ingredients directly from the farm.
Sample menu:
Freshly-made egg tagliatelle
Tuscan meat sauce or vegetable sauce
Vegetables au gratin with parsley, extra-virgin olive oil and breadcrumbs
Roasted pork tenderloin
Tuscan almond biscuits
The Participants
Any class can be attended by minimum 2 persons to maximum 45 persons. Aspiring chefs are not required to have experience in cooking, however the level of difficulty of the classes can be adjusted according to the clients' requests.
The Cooking Classes
Our cooking classes are held in the kitchen of the farmhouse restaurant. The chef speaks both Italian and English.
Every lesson lasts about 2 hours: the first part is an introduction on Tuscan cuisine and the recipes that have been chosen, whereas the second part is practical. Our clients will actively take part in the cooking process. For instance, they will learn how to make tortellini, gnocchi, tagliatelle or lasagne... In case the group consists of over 15 persons, the participants are divided into smaller groups and exchange their work stations.
At the end of the cooking class, all the dishes prepared together will be tasted and paired with the wines produced by our farm (wines are not included in the price). Come and enjoy a lovely traditional Tuscan dinner or lunch!
The Prices
Prices vary according to the number of participants and include a dinner or lunch (wines excluded).
120 euros per person to attend a class for 2 to 4 persons
100 euros per person to attend a class for 5 to 7 persons
90 euros per person to attend a class for 8 to 12 persons