Our honey and candles
In the workshop where honey is produced it is possible to observe and appreciate how natural our honey is, from the moment when it is produced by bees to its packaging in pots and jars. The honey making process is very simple: we only draw the honey from the honeycombs, we pour it, check it and fill in jars and pots. Beeswax is then used to make beautiful decorative and scented candles.
Our types of honey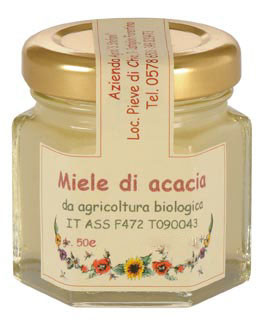 We produce 12 monofloral honeys, 6 honeys flavoured with fresh fruits, 5 honeys flavoured with dried fruits, 1 honey with truffle and 1 with hazelnut cream.
The life of bees is visible in close-up at the farm: you can see how honey is produced and then taste how good it is!
Monofloral honeys directly produced by bees from organic farming.
Special honeys flavoured with truffle, hazelnut cream, coffee cream and chilli pepper.
Honey with preserved fresh fruits
Honey with dried fruits
Honey with hazelnuts, walnuts, almonds, pine nuts and raisin.
Our decorative candles
We cast lovely decorative candles by using the beeswax produced by our bees to perfume your house and create a cozy ambiance.
All of our produce comes from organic farming.